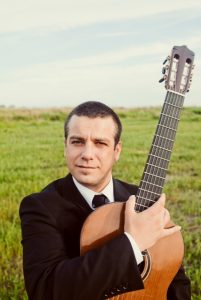 Peter Zalocha has been practicing as a guitarist since the age of six. He had an early start in rock and roll bands growing up in Buffalo, NY performing original music and classic rock covers. while in high school, he turned to the study of the classical guitar, and went on to study the instrument in college.
He received a Bachelor's of Music Performance from the University of Colorado at Boulder, CO and a Master's of Music Performance at the University of Buffalo where he studied with the world renown Joanne Castellani of the Castellani and Andriaccio Guitar Duo. Peter performs in The Zalocha Sperber Guitar Duo which was formed while in grad school with fellow Crossroads instructor Matthew Sperber.
The duo has appeared for a variety of occasions throughout the Western and Central New York area. Peter is a member of the Buffalo area Irish traditional group, Crikwater, in which his main instruments are the tenor and five-string banjo. He can also be seen performing in the Buffalo area with his Classic Rock cover band, Handsome Pete.
He has been teaching guitar and other fretted instruments since 2000, and began as an instructor at Crossroads Music Center the year it opened, 2004. He also teaches classical guitar to students ages three to eighteen at Buffalo Suzuki Strings located in North Tonawanda, NY. Beginning in January 2012, Peter took over as the proprietor of Crossroads Music Center and is pleased to be able to provide a location for diverse and inspirational music lessons.